Lauwersmeer

The farm, surrounded by generous windbreaks with old trees, is located in the wide open polder landscape of the province of Groningen. National park Lauwersïake, one of Holland's biggest national parks, borders the farm's fields.
The wetlands of the Waddensea, with it's tidal coastline and wide open skies, is within a mile walking distance from the farm. At the foot of the old dyke are two traditional wild duck farms of which one is still operational. From the top of the dyke one can see Schiermonnikoog island which can be reached by a frequent ferry service from close by Lauwersoog.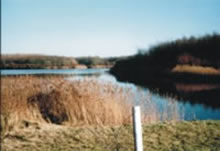 There are also several historica! churches, landscaped historical gardens, and a "tea factory" (café, museum and shop specialized in teas) in the neighborhood. The town of Groningen and the Frisian cities Leeuwarden and Dokkum are close by at half an hours drive.